"Cliffs that, as if afire again, stand their ground firmly above the water, upholding with grace, the oblong town on their crest"
KADIO KOLYMVA
LOCATION
For hundreds of years, the people of Santorini have been crafting their lives on it in bright whitewash. This mystical/magical/ enchanting island is a work of art created by gods and humans, with seductive natural beauty that captivates visitors.
But beyond the famous Caldera, Santorini hides thousands more secrets to discover beaches in outlandish hues, traditional villages and lush vineyards. Armenaki l is the starting point and source of inspiration for countless tours on an island that still has a lot for you to discover.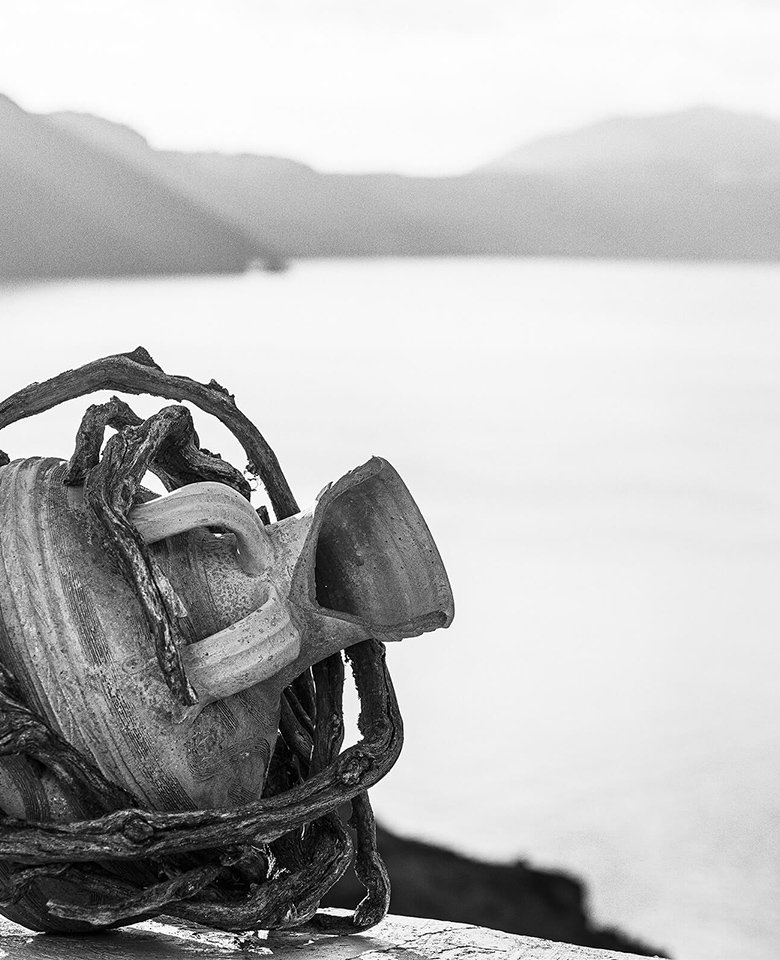 Oia
Perched upon the northernmost point of the island, Oia is Santorini's most picturesque and romantic village. Snow-white cave houses with colorful touches, stairs and intertwining small courtyards, as well as more than seventy churches with their distinctive blue domes, are Greece's most recognizable symbols. The beauty of Oia is so abundant that it is impossible for a visitor to absorb it whole in one single moment. Start your day early in the morning. When everyone is asleep and shops are closed, get lost in the vertical maze of Oia, full of narrow alleys and tiny steps. The clear morning light makes the Caldera glow, as waves and silver sea currents are carved on it. Walk up to 'Marmara', (Marbles) Oia's main cobbled street and transport to another era among majestic sea-captains' houses, that remain monuments of the village's great maritime tradition. Later, walk down the famous stone steps towards the sea and cool off with a dip on the beaches of Oia: Columbo, Armeni, the old harbor of the village, Ammoudi and of course, Armenaki beach. When the sun starts to set, all Santorini comes together for an informal rendez-vous in the alleys and courtyards, and Oia's Venetian castle. Thousands of visitors from all over the world gather to watch a few-minute show starring the sun and the sea. Oia's sunset resembles a sacred ritual during which an everyday occurrence takes on mythical proportions. All of a sudden, whitewashed neighborhoods are painted gold, leaving spectators stunned in the face of nature's greatness. Emotions are as strong as the applause that resonates throughout Oia when the sun sets in the Aegean. As night falls, Oia is shining on the now-invisible rock of Santorini. The quiet of the evening is colored by clinking sounds of silverware and wine glasses, intertwined with endless conversations in the award-winning restaurants of the area. Final destination of the day, the stars. Enjoy them in the outdoor space of your Armenaki Hotel suite with a glass of Santorinian vinsanto.
SPREADING FROM LOGGIA AND UP TO MONASTIRI, IT SOOTHES MY HEART AS I GAZE AT ARMENAKI.
Armenaki Harbour
We love obscure beauty that only reveals itself to the ones seeking it and this is why we named Armenaki Hotel after this small bay. Just below our neighborhoods, Loggia and Monastiri, lies the almost unknown, Armenaki beach. A small harbor that is not visible from Armeni and can only be reached by sea or by a steep path etched into crimson volcanic rocks. There, boats once found shelter and Oia's fishermen carved their "shops" into the rocks: vaulted storerooms where they stored their tools or spent the night when needed. Legend has it that the most delightful impromptu celebrations among fishermen took place there, with fresh fish, fishing lamps and songs that praised, our favorite, Armenaki.