The Santorinian land, enriched by volcanic eruptions and blessed by the sea and sun of the Aegean, translates the uniqueness of its landscape into tastes and flavors bestowed upon it. Here at Armenaki, organic products and local tradition meet modern cuisine, creating gastronomic experiences that spark a deeper connection between the visitor and the land.
EXPLORE
GASTRONOMY
Authentic flavors of Santorini, in the comfort of your suite.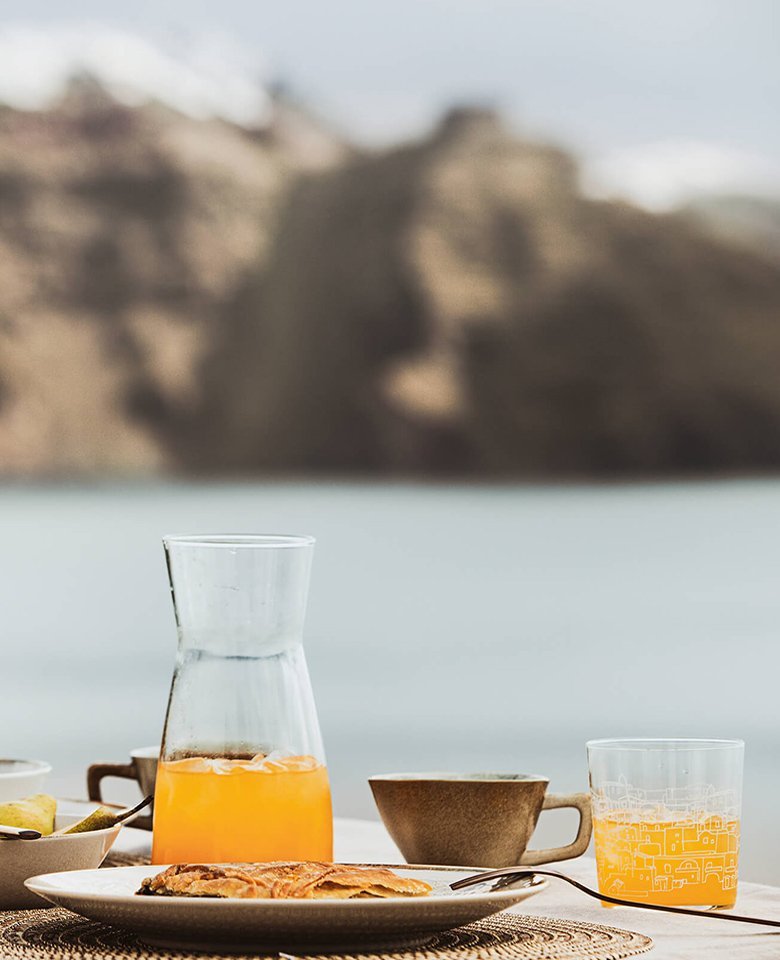 In-Room Breakfast
There's only one thing better than waking up over the royal blue Aegean having breakfast with this view! Every morning from 07:30 to 11:30 à la carte breakfast is served in your room, with continental options prepared with the freshest organic products of our land. Do you have special dietary preferences? Let us know before or upon arrival at the hotel and we will create your own special breakfast.
IT ONLY TAKES ONE LOOK TO FALL IN LOVE WITH SANTORINI. IT TAKES ONE MEAL TO PERCEIVE THE TRUE MEANING OF IT.
In-Suite Dining Service
Authentic local flavors, our chefs' creativity and the finest service transform every Armenaki suite into the most exclusive restaurant with the most fascinating view. Whether it is a casual meal in your swimsuit by the pool, or a romantic dinner as the sun sets over the Caldera, our In-Suite Dining Service delivers Santorini's full dining experience to your very own suite. An all-day menu that combines haute- cuisine with local tradition, will reintroduce you to Santorini's most famous dishes and wines. Exclusively created for you by our chefs, with organic products by independent producers from every corner of the island and the Cyclades.